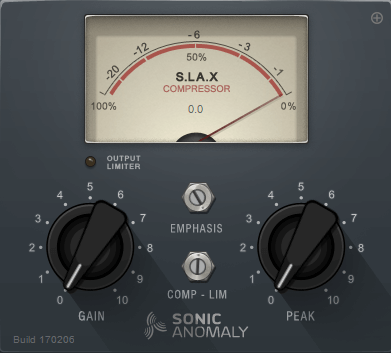 S.LA.X is a retro compressor loosely inspired by the famous LA-2A. It has an aggressive and dark character, which suits well for vocals, drums, bass and acoustic guitars.
The Controls:
Gain: The output level.
Peak: The amount of compression.
Emphasis: The amount of high frequency influence in the sidechain. Smooths out sibilants.
Comp/Lim: Alters the speed, ratio and knee of compression.
Overflow: The output limiter indicator turns on when output exceeds -0.1dbfs. No signal can get past -0.1dbfs.
Inside option screen (+) there are three audio coloring settings: flat, fat1 and fat2.